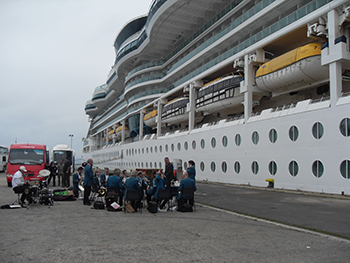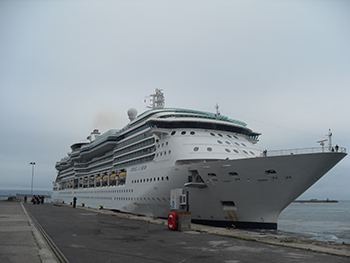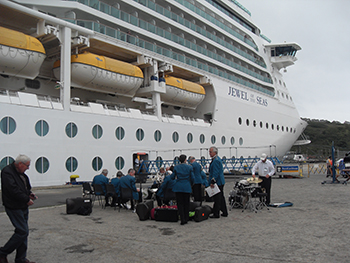 One Of the largest ships visiting Portland Port. Weymouth Concert Brass perform an hour long concert for many of the visiting cruise liners as they are waiting to depart to their next port of the cruise.
The ship is the Jewel of the Sea. The ship can hold more than 2500 passengers and weighs more than 90,000 tons
Celebrating after 3 successful days of playing 6 times a day at each opening of the town bridge music by Hywel Davie, written for the Olympic occasion,
Many thanks to members of Verwood Concert Brass for their support, and the the wonderful help from Weymouth bridge operation team, also a big thank you to the Revd. Anne Dunne for the use of Holy Trinity Church.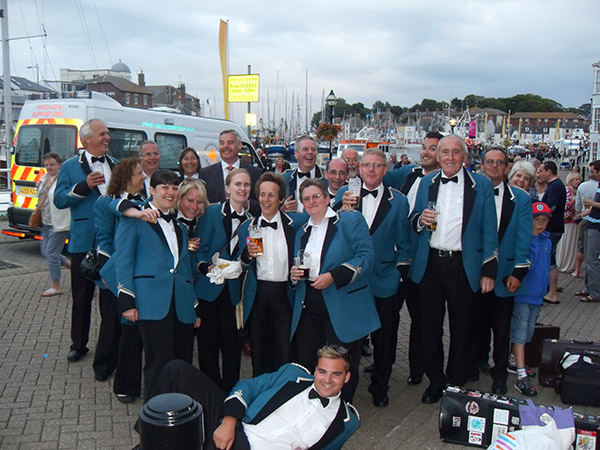 Photos taken during the long day playing at the Town bridge openings and taking it easy at the end of the day.
WEYMOUTH Town Bridge was alive- with the sound of music. Every time
the town bridge lifted yesterday Weymouth Concert Brass played a different
piece by musician Hywel Davies.
Hundreds of people gathered to listen to the premier performance as the bridge lifted at
9.30am. The art piece is part of the b-side mul- timedia arts festival which launched
yester-day and will run until August 12 in Weymouth and from August 29 to September 9 on Portland.

The brass band piece called To—ing and Fro- ing was created by Mr Davies especially for
the festival. The idea is that Weymouth Concert Brass was split into two across the
bridge and each played to the other so that the music went to and fro across the water.
Mr Davies said: "b-side is fantastic, it allows artists a lot of freedom to try things out."
He added that he was delighted with the way the project had turned out.
Mr Davies said: "lt's very good. It's all come together. lt's been a huge learning curve for me."

Onlooker Ann Shepherd from Newbury said she had really enjoyed it.
She said: "I thought it was a really great idea, with everyone standing around waiting to cross the bridge it's great to have some entertainment to focus on, She added: "'They were quite uplifting pieces." Ann Sycamore from Weymouth said: "lt was absolutely wonderful. It's nice to have the
town band playing in its own town to.

From the Dorset Echo
Test Piece: 'English Folk Song Suite' - Ralph Vaughan Williams
1. Midsomer Norton & Radstock Silver (Joanne Sykes), 19*
2. Andover Town (Steve Large), 14*
3. Launceston Town (Dave Dobson), 5*
4. Wilton & District (Colin Herbert), 8*
5. Spinnaker Brass (Sam Hairsine), 6
6. Weymouth Concert Brass (Adam Glynn), 12
7. Chalford Academy (Steve Tubb), 4
8. Gosport Solent Brass (Simon Nicholls), 25
9. South Molton Town (Gil Taylor), 18
10. New Forest Brass (Ian Luxford), 1
11. Bratton Silver (Simon Carr), 11
12. Lydney Town (Kevin Ford), 22
13. Shanklin Town Brass (Malcolm Lewis), 17
14. Porthleven Town (Francis Ralph), 20
15. Wincanton Silver (David Bertie), 21
16. Swindon Brass (Francis Cowley), 7
17. Totnes (Sid Davis), 16
18. Cheltenham Silver (Angie Shepherd), 15
19. Marshfield (Steve Rocky), 23
20. Verwood Concert Brass 'B' (James Haigh), 9
21. Bideford Town (Roger Ashby), 25
22. Okehampton Excelsior Silver (Des Law), 2
23. Torbay Brass (Dennis Frere-Smith), 13
24. Thornbury Town (Darren Williams), 3
25. Tiverton Town (Andrew Harris), 10

* Top four bands qualify for National Finals