2022


It was an honour to play the music at the Community Memorial Service remembering her late Majesty Queen Elizabeth II. It took place in the beautiful Greenhill Gardens Weymouth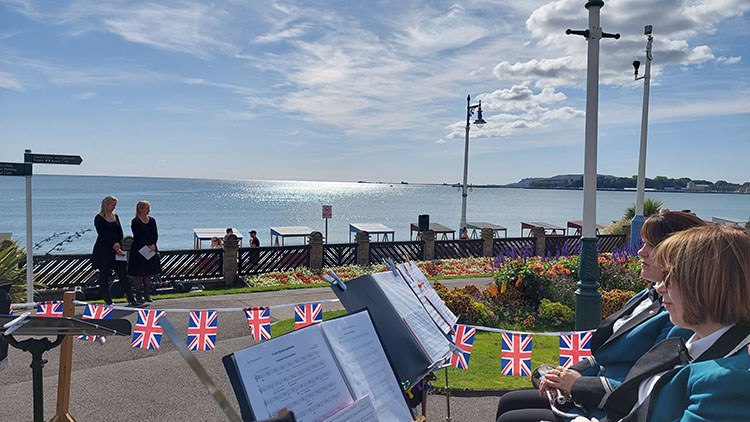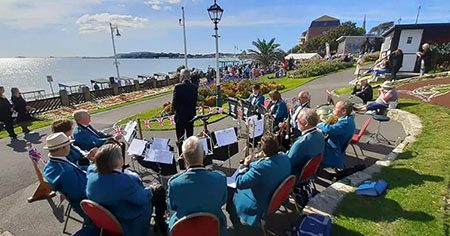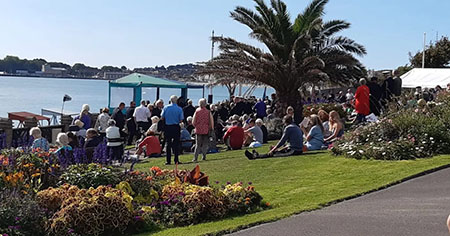 We had the privilege playing at the b-side event on the Isle of Portland showcasing the very best in contemporary art made in response to this beautiful and intriguing island. The parade showed the weirdest and most colourful costumes making it a spectacular event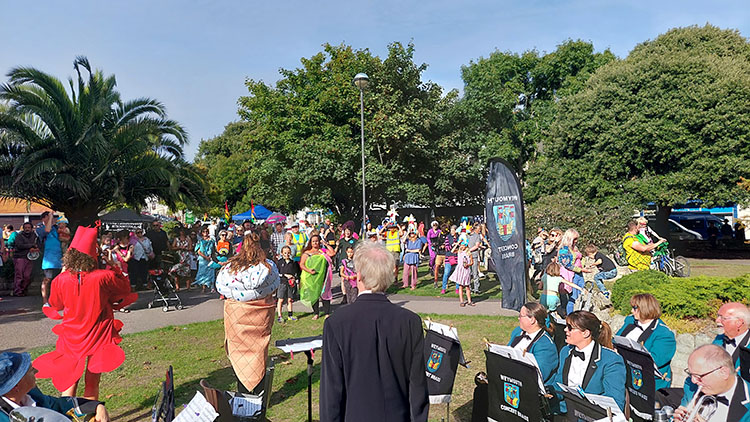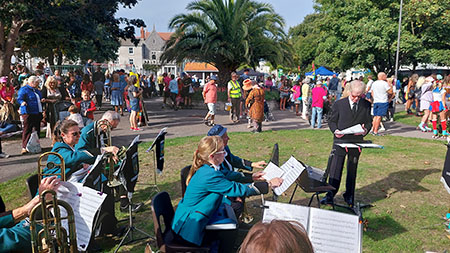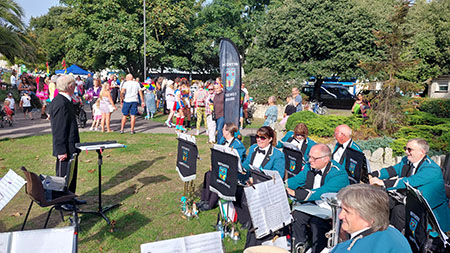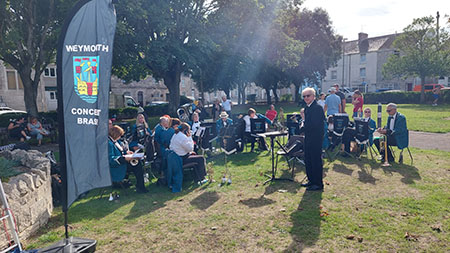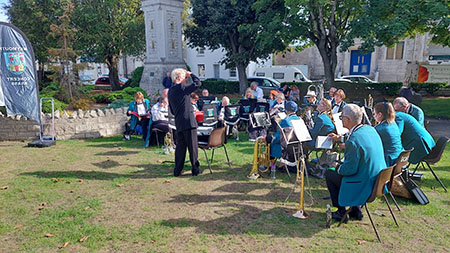 A very busy 9 days playing to 5 cruise liners at Portland Port. The Phoenix Reisen's Artania.The Norwegian Prima we had the privilege to play for her on her maiden voyage. The Celebrity Apex. The Norwegian Dawn and the Emerald Princess which was cut short due to wind and rain blowing our music stands over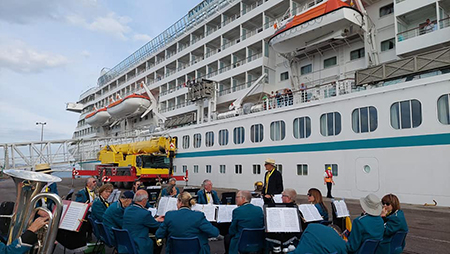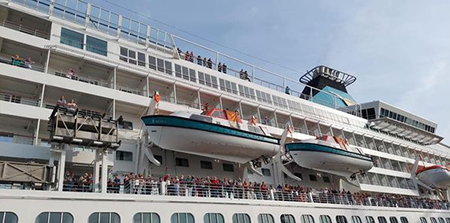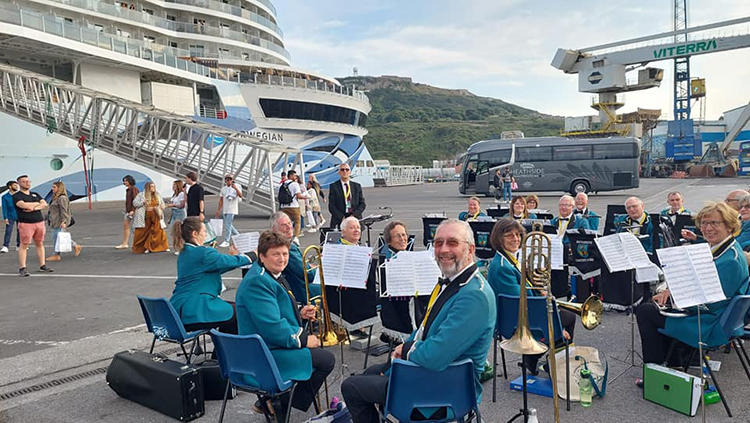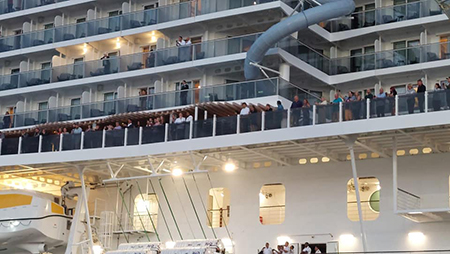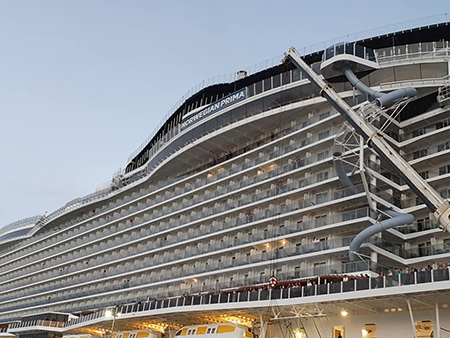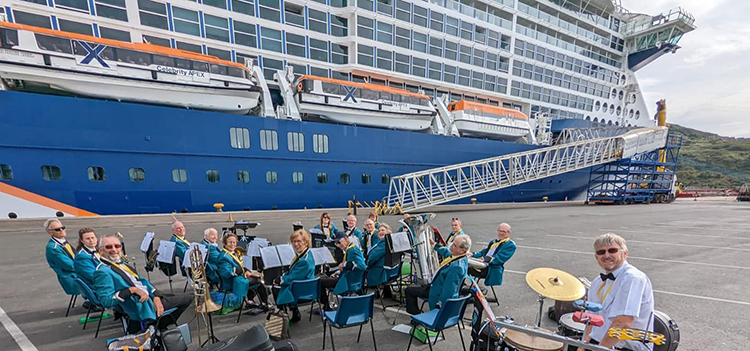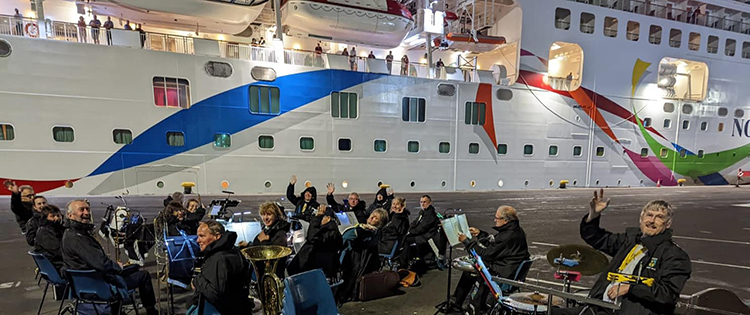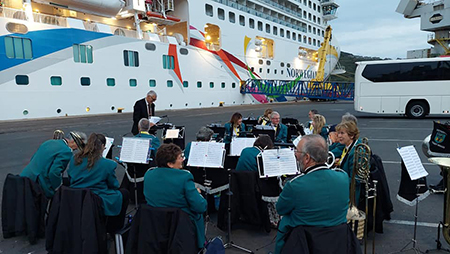 &nbsp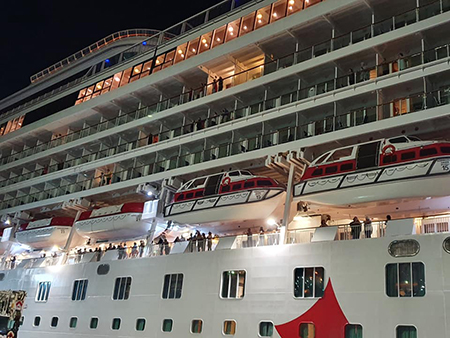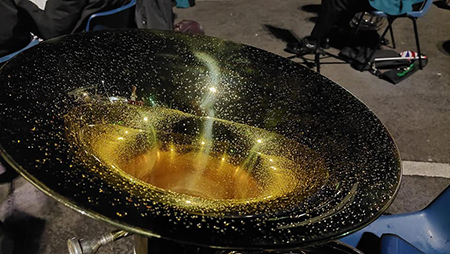 A wonderful day at Easton Gardens Summer Fair. We were delighted to be part of the 20th anniversary of the Fair, organised by the Friends of Easton Gardens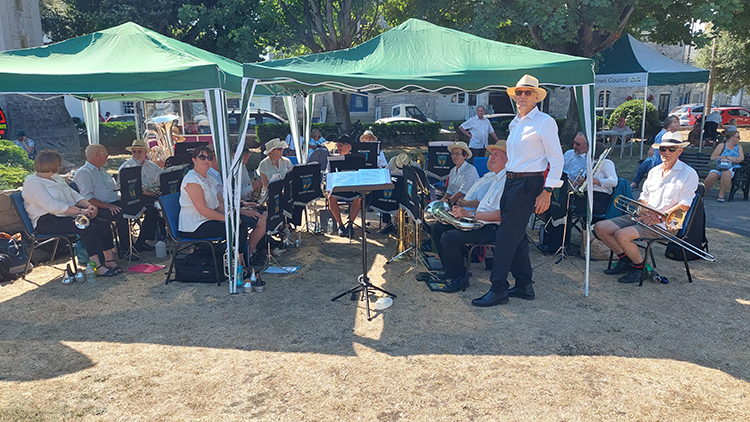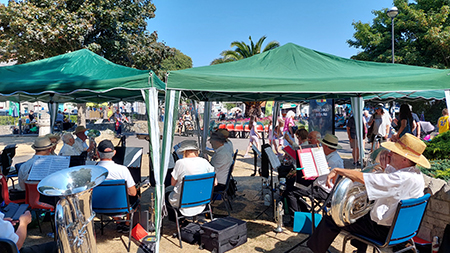 &nbsp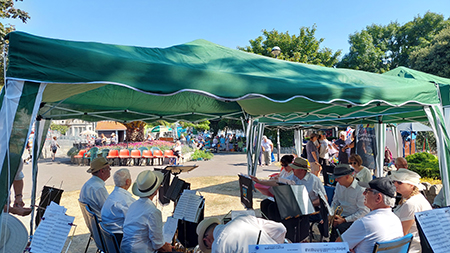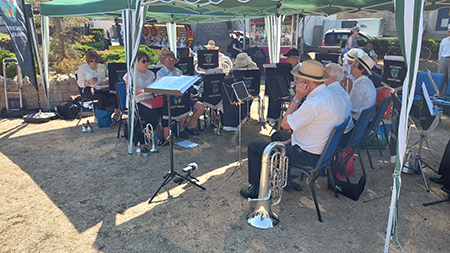 &nbsp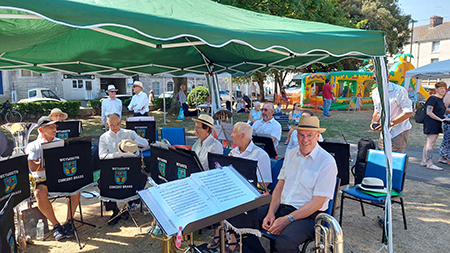 Entertaining passengers on one of the smaller cruise ships the Hurtigruten's MS Maud
The Captain of the Ship presented us all with a bar of special chocolate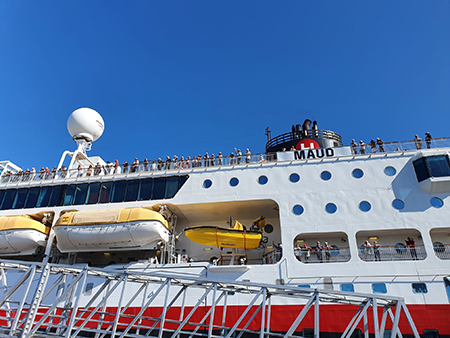 &nbsp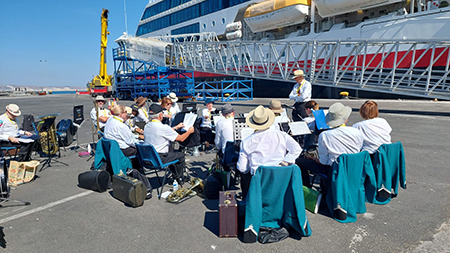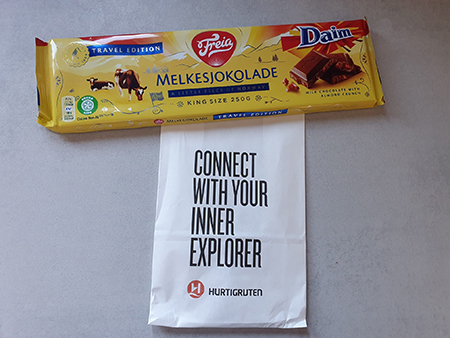 &nbsp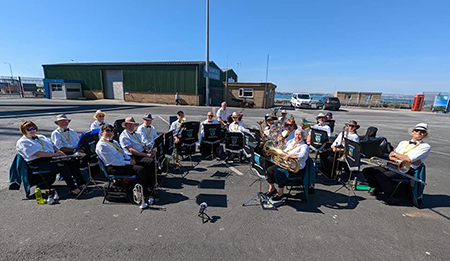 Playing to another mighty cruise ship the Celebrity Silhouette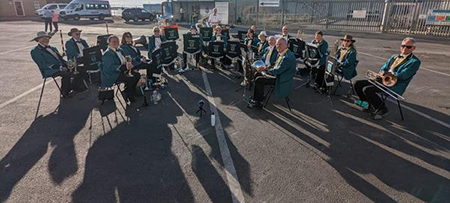 &nbsp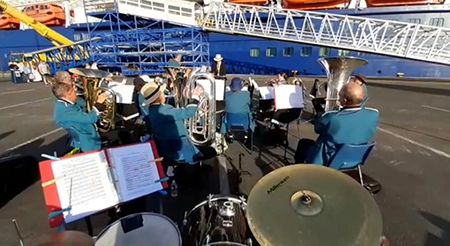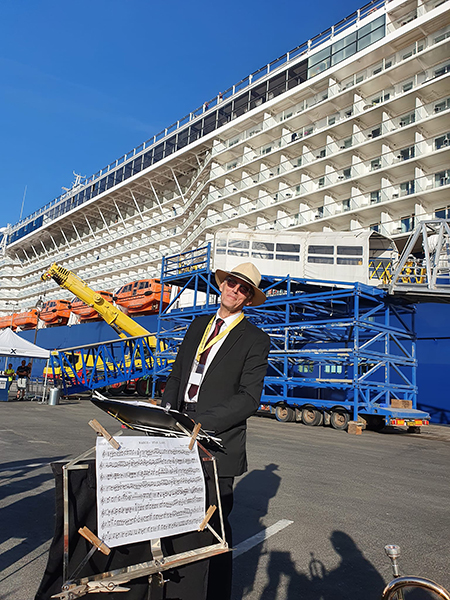 &nbsp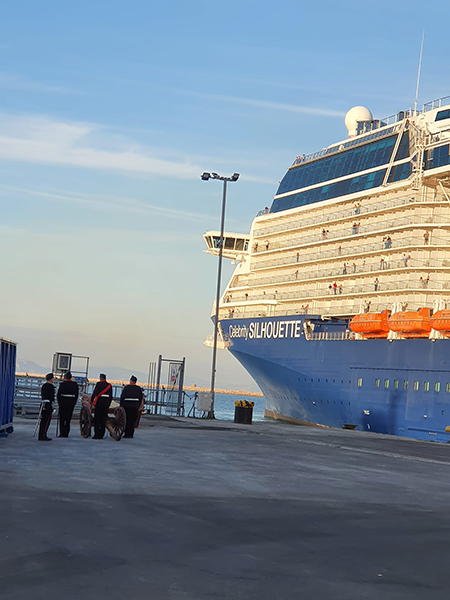 Taking part at the Victorian Weekend Theme at the Nothe Fort. It was a privilege to play at this historic venue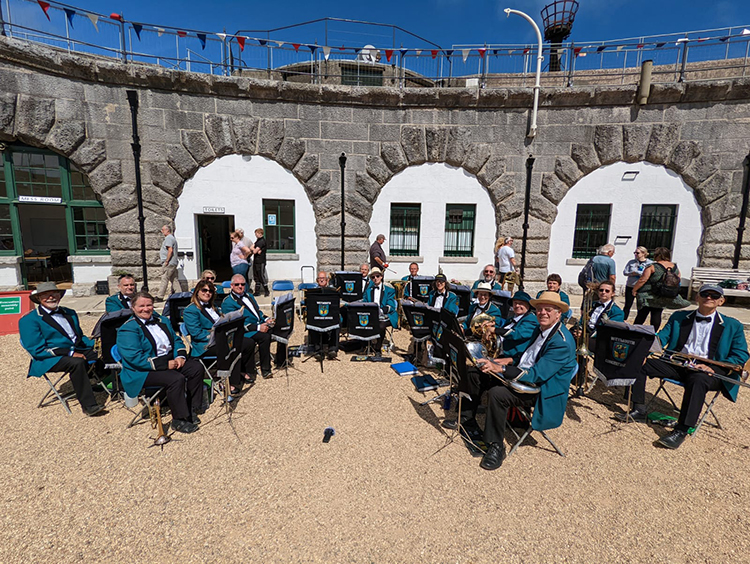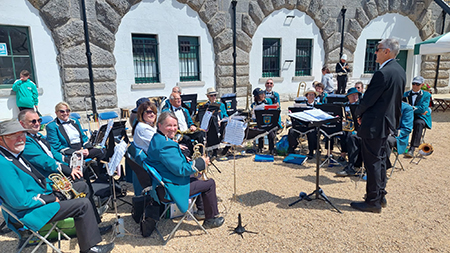 &nbsp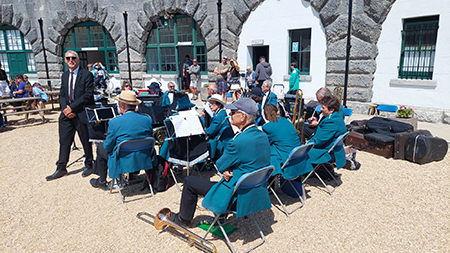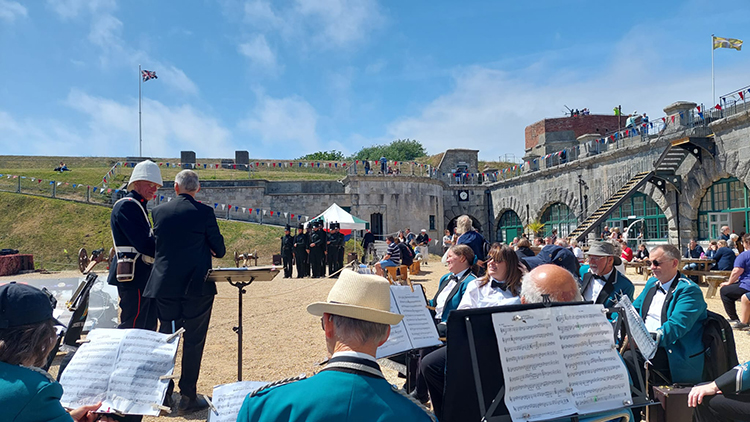 The Band playing to the wonderful passengers of the cruise ship HereMein Schiff 3 who joined in with clapping and cheering from the ship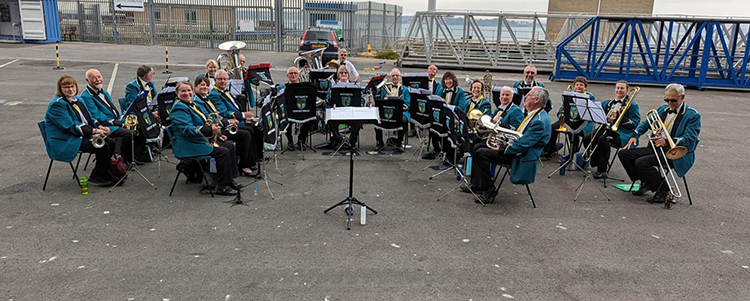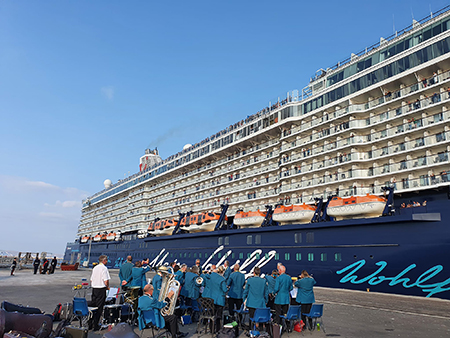 &nbsp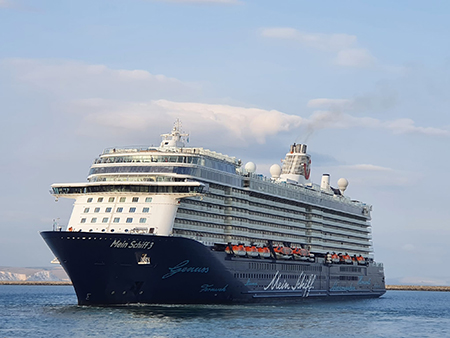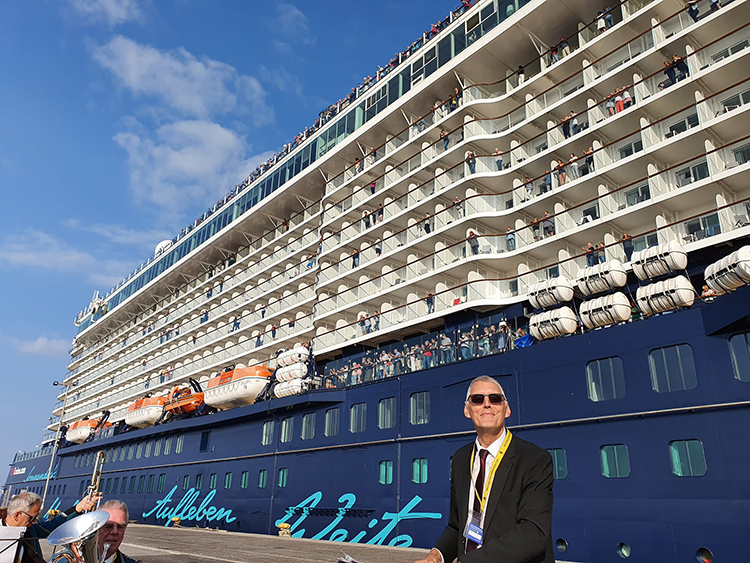 A Wonderful afternoon playing in Radipole Park Gardens. The event "Brass in the Park" organized by Friends of Radipole Park Gardens. Many thanks for the refreshments during the interval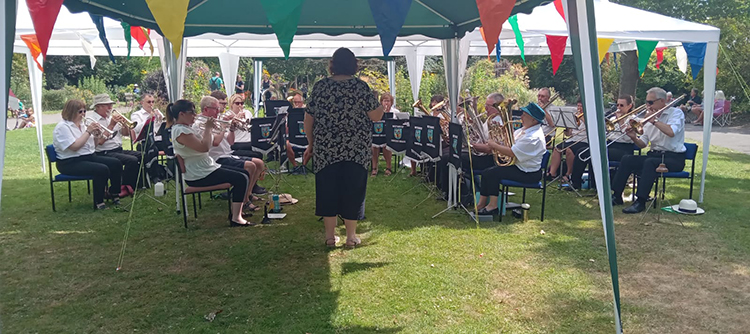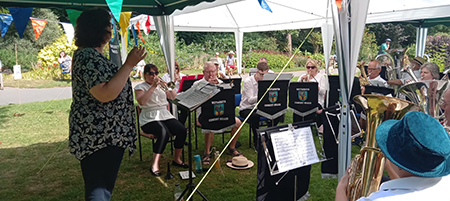 &nbsp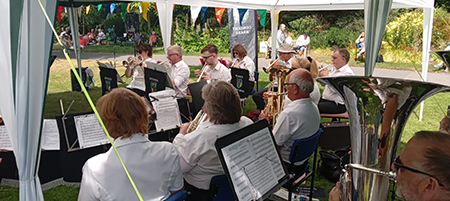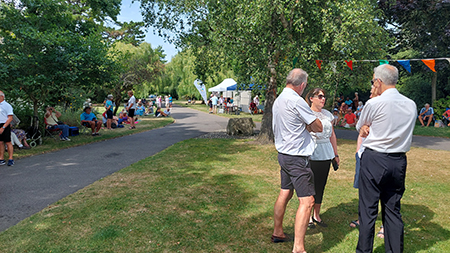 &nbsp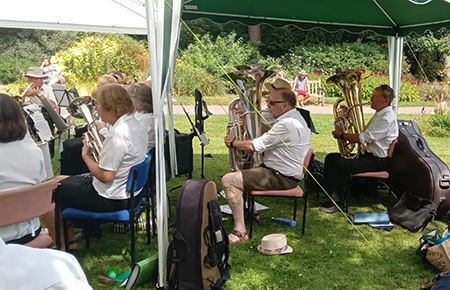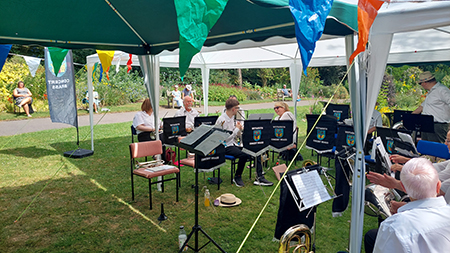 &nbsp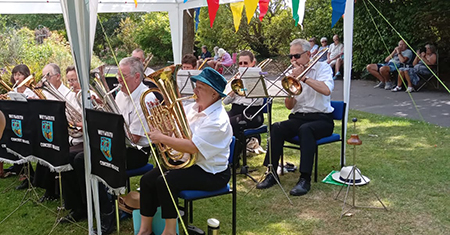 The Band having a break from playing while at the popular All Saints Summer Picnic


&nbsp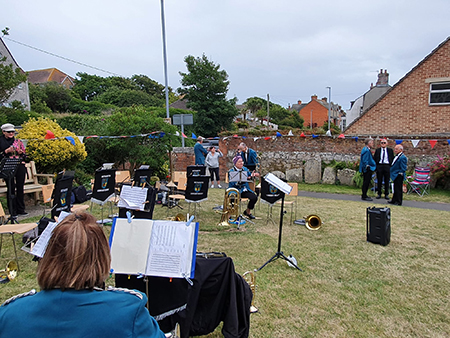 A very hot afternoon on June 22nd playing for the Cruise liner Aida Aura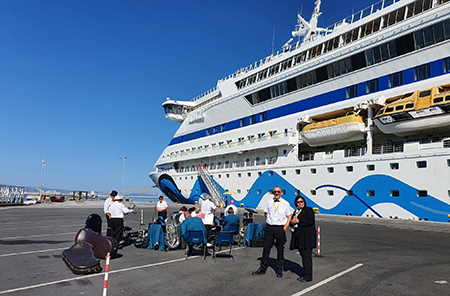 &nbsp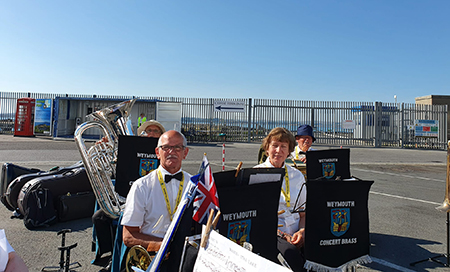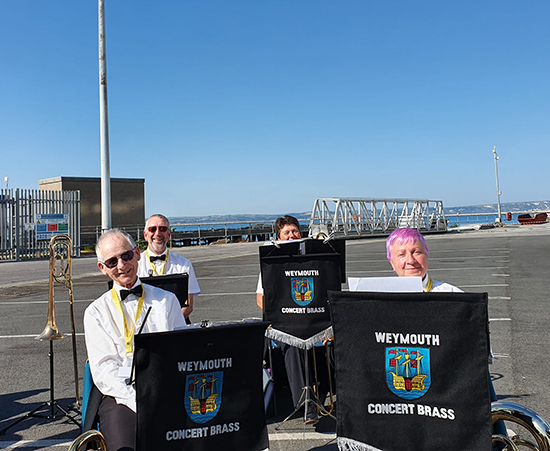 &nbsp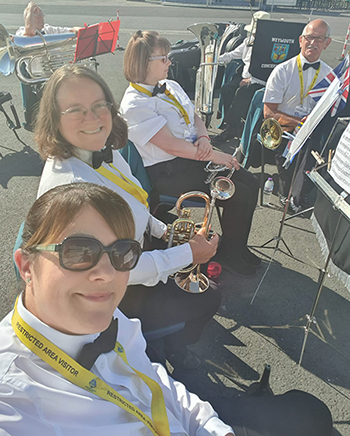 &nbsp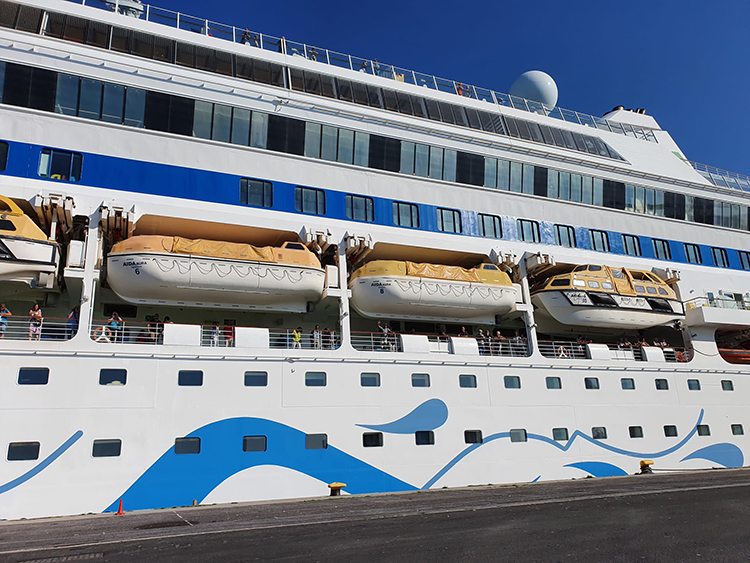 Three engagements for the Band this weekend. June 10th playing music at Wyke Regis Junior School for their celebration of the Queens 70 year Reign. Entertaining the cruise liner Norwegian Star on June 11th at Portland Port. On June 12th the Band had the privilege of playing the music for the Service of Remembrance and Reflection at Portland Cenotaph today, to commemorate the 40th anniversary of the Falklands War.


Portland Port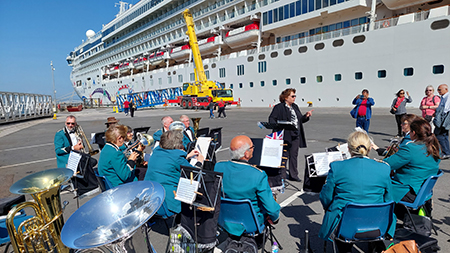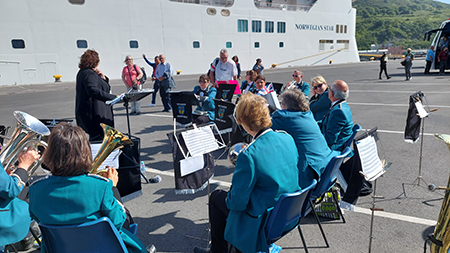 Portland Cenotaph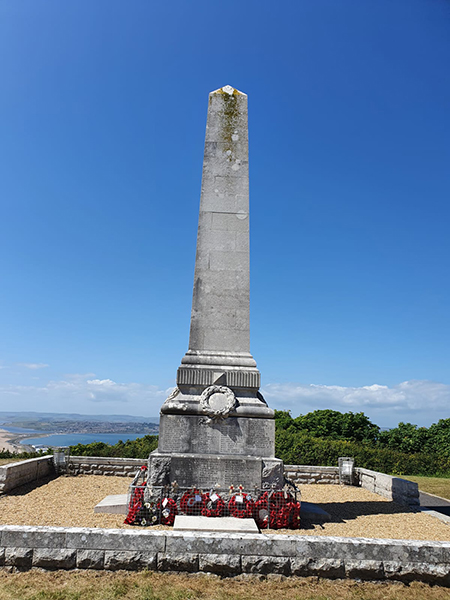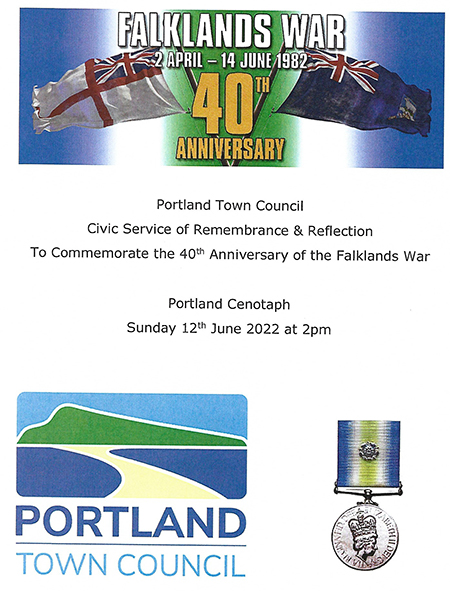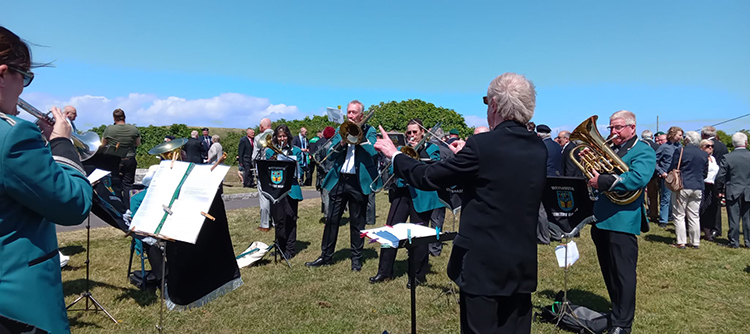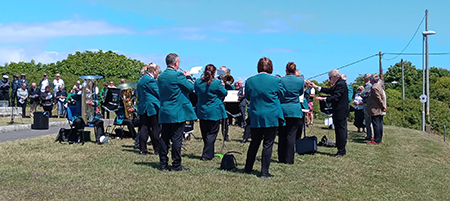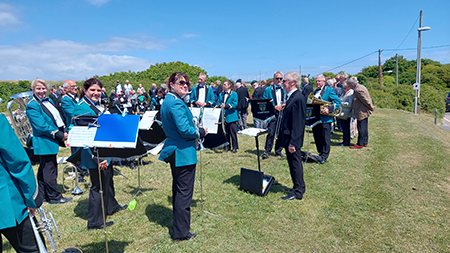 Weymouth Concert Brass playing at Engagements for the Queens 70 year Reign


The Band playing at Lighting of the Queen's Platinum Jubilee Beacons on June 2nd 2022.
and also Friends of Victoria Gardens Queen's Platinum Jubilee Garden Party on June 3rd 2022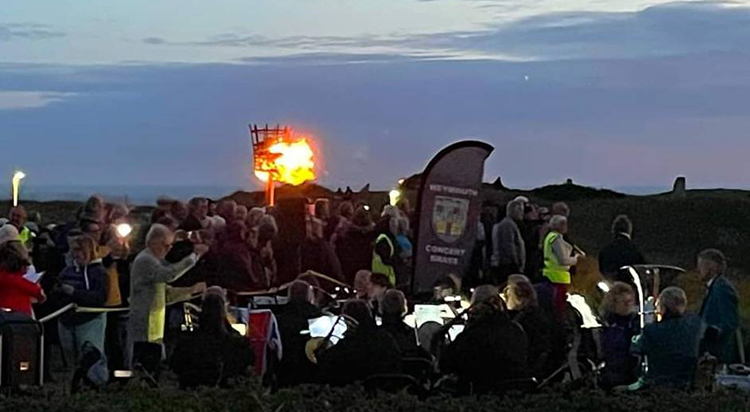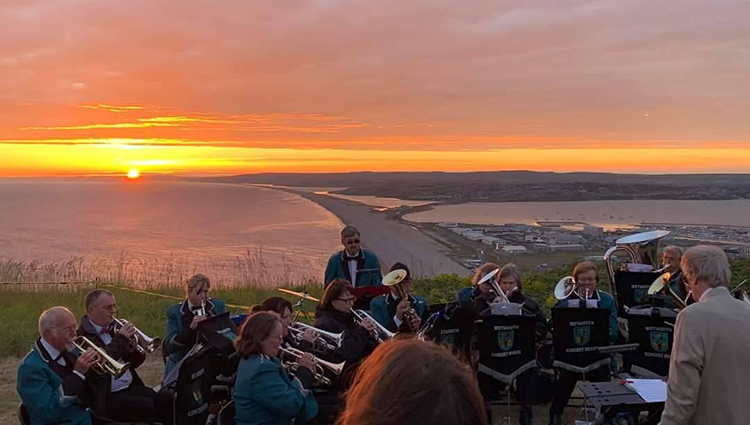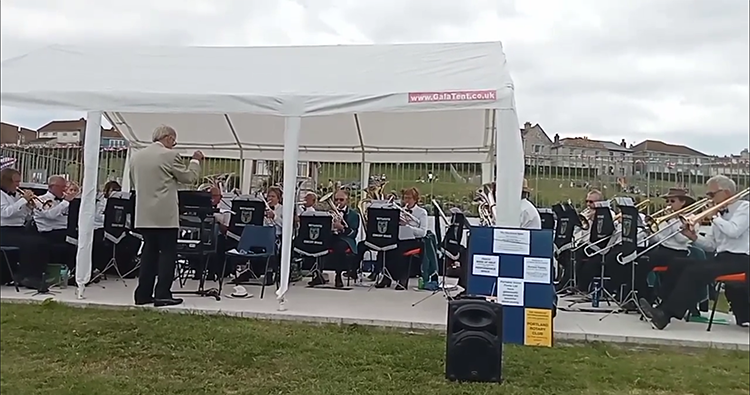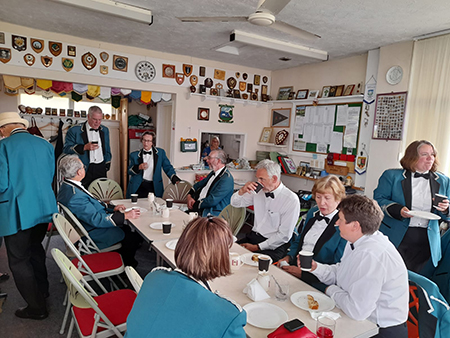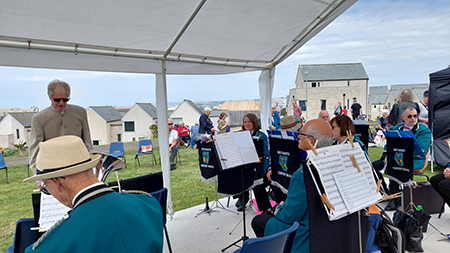 A wonderful evening playing to the passengers of the Celebrity Apex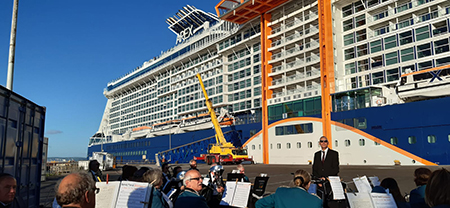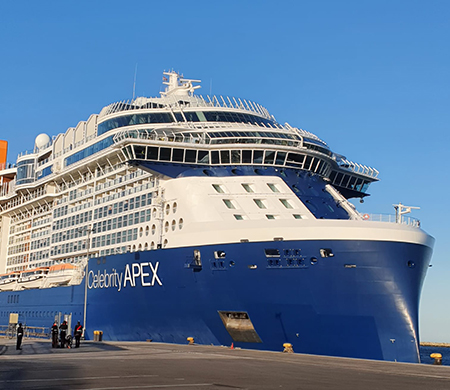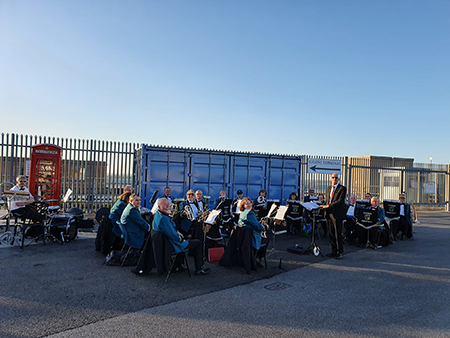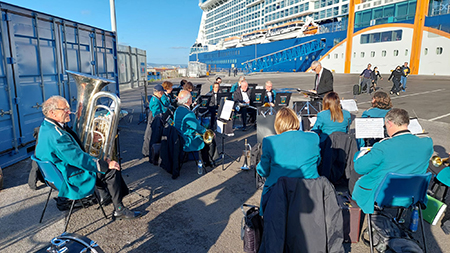 Our first visit to Portland Port since 2019 to play for the Cruise liner Emerald Princess. It was good to be back at the Port again entertaining the passengers
A lovely twitter message from Princess Cruises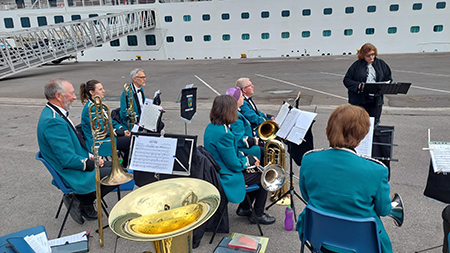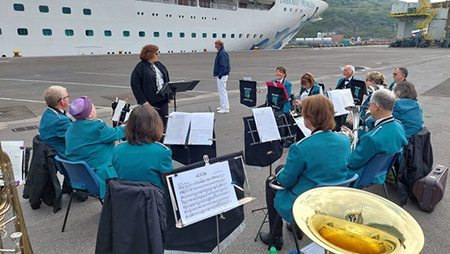 Weymouth Concert Brass First Contest for 2 years
The West of England Regional Championships 3rd section at The Centaur, Cheltenham Racecourse.
The Band decided to go ahead although down on numbers due to Covid. Thanks to Verwood Town Band for letting us borrow your Flugel player. She was amazing
The result was 12th postion but it was great to be back playing in contests again the band thoroughly enjoyed the day and cheered up by the comments on twitter by 4 bars rest
regs2022 West S3: What a joyful rendition from WeyBrass - all smile even in chapel. Neatly done that - lots to enjoy with the approach and the execution
We also had the comfort of a 52 seater coach for just 17 of us for the day
The results of the contest have increased our grading points, so next year we will be competing in the 4th section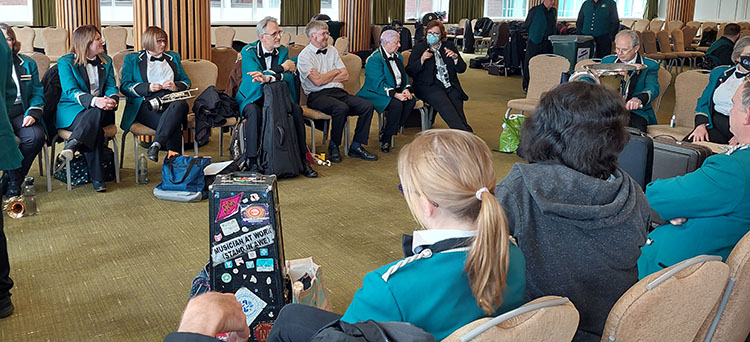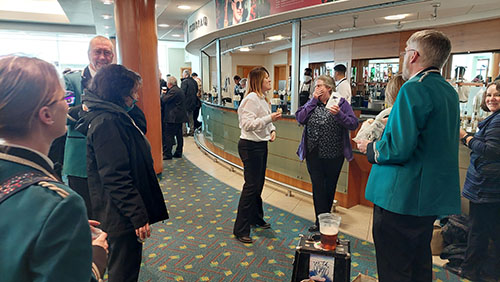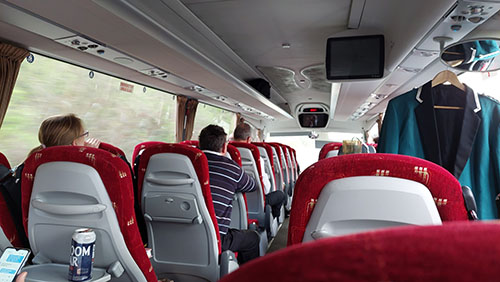 Weymouth Concert Brass New Practice Band Room
St Edmunds Church Hall